Whilst Roadgrip has a strong reputation for painting and surfacing the world's race tracks and airport runways, we also enjoy working on car park marking and refurbishment jobs closer to home. As you can see from the gallery below, car park painting can be just as creative as the motorsport circuits we work on, and the antiskid flooring and surfacing treatments we apply deliver equally stunning results.
From car park waterproofing to resin floor coatings, bay marking and signage for supermarkets, hospitals, local authorities and major events, here are our ten top car park refurbishment jobs:
1. Car Park Resin Flooring at Westfield
This job was a major project where we refurbished the entire car park at London's largest covered shopping centre.  From shot blast preparation and diamond grinding to the application of resin over 120,000 m2 on three decks of the multi-storey, the finished results were outstanding. The final effect was down to excellent hand-applied resin, line markings and branding to give the car park its strong identity. Watch the video:
2. Branded Car Park Marking at Tottenham
Our team used great creative application to reflect the football club's famous branding throughout the their car park. From the parking zones and pedestrian walkways to the wayfinders and bays (and even the traffic cones), the instantly recognisable white and blue car park marking make for a memorable visit to the Spurs stadium. See more images in the gallery: Tottenham car park design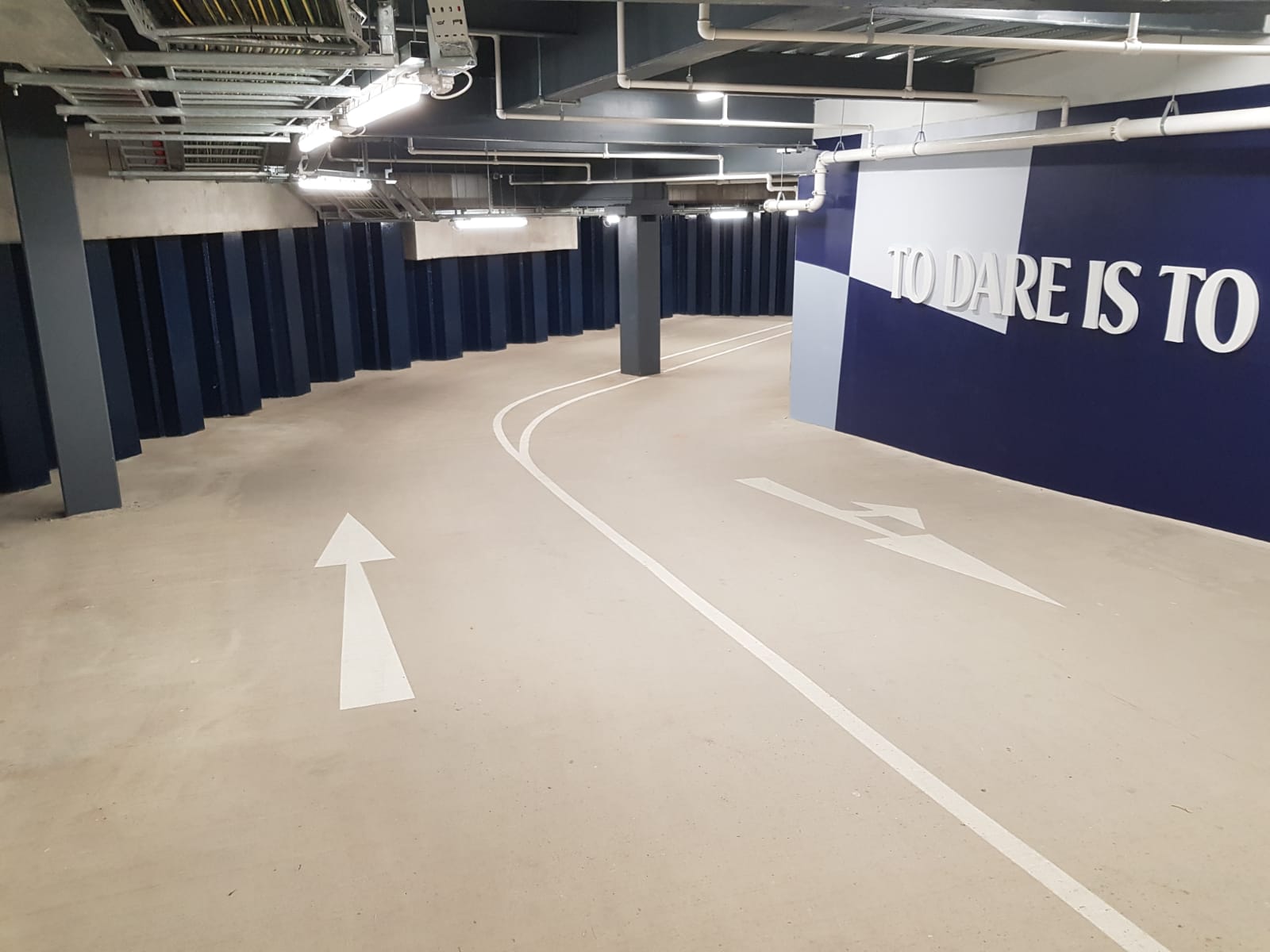 3. Car Park Waterproofing for Southwest Trains
Whilst we were fortunate to have a beautiful sunny day to apply the resin waterproofing to the top deck of this car park, the benefits would come into their own in wet weather. Using a superior waterproofing system, the resin not only waterproofs the car park decks but also protects the underlying structure of the car park too. With advanced levels of UV and chemical resistance, the treatment increases longevity, improves safety and saves money on maintenance.
Read more about the benefits of car park waterproofing.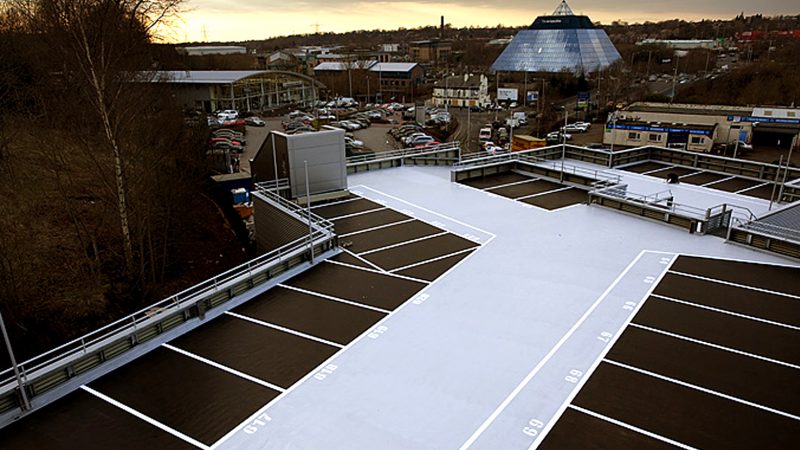 4. Car Park Marking for New Whitehouse Medical Centre
We worked on this new construction project for an extensive medical centre in Milton Keynes. With such a high level of visitors expected, it was essential that the way-finding and bay-marking were crystal clear in the car park to aid navigation and safety.
We therefore applied markings to designate car park bays, pedestrian crossings, give-way junctions, white directional arrows, yellow hatched markings and clear wording to clearly mark out the flow of the new car park. See the full project here: Whitehouse Medical Centre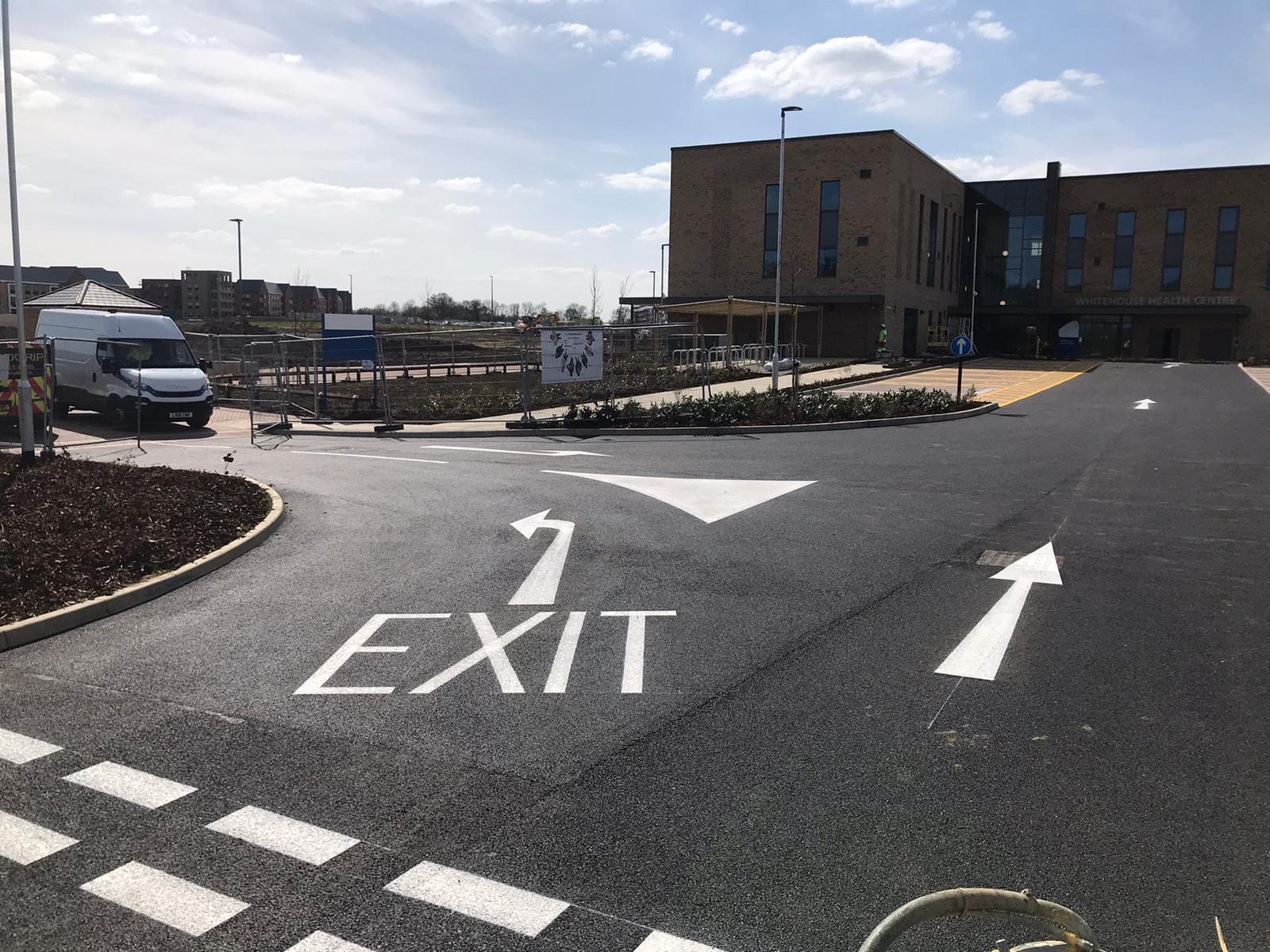 5. Thank You, NHS
2020 put the NHS under incredible pressure and this was one small way we could say thank you to the staff of one hospital in Burton. We were there to paint new bays and refresh existing car park lines to the hospital car park and nursery areas to clearly mark out drop-off and parking. When we finished the job we saw an opportunity to give a little something back to the staff and their children. Using our motorsport circuit marking expertise, we replicated a race circuit in miniature for children at the nursery to play in. Thank you, NHS.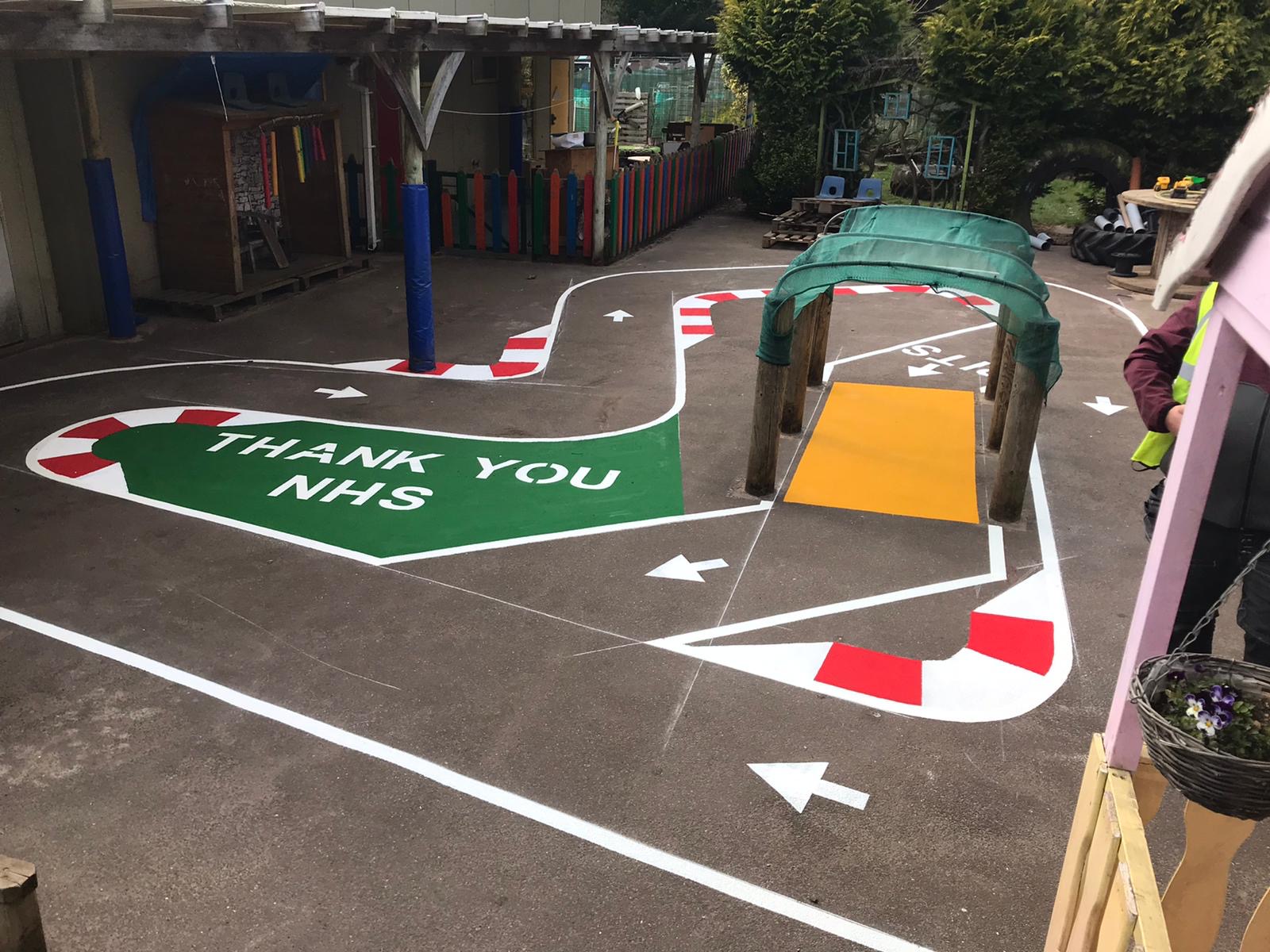 6. Thermoplastic Line Marking at Sainsbury's Car Park
We always enjoy working with Sainsbury's when we paint their retail car parks. Did you know they have particular shaped lines in their car parks? To achieve the 'sausage' shape of the Sainsbury's bays, we apply the lopped ends by hand for a perfectly accurate finish. With retail car parks, we use thermoplastic paint to mark out the car park bays, parent and child spaces, pedestrian crossings, way-finding arrows and speed limit roundels (the speed limit numbers painted on the surface in a circle). Learn more about retail car park marking here: Supermarket Car Park Marking
7. Car Park Refurbishment Selfridges
From concrete repairs and floor preparation to MMA floor coating on 11,000m2 of ramps and car park areas, we transformed multiple decks of the car park at London's iconic Selfridges store. We finished the works by decorating the walls soffits and signage. Our team offer the full works for car park builds and refurbs including lighting, decoration, smart parking and entry barriers. Contact us for the full brochure of services.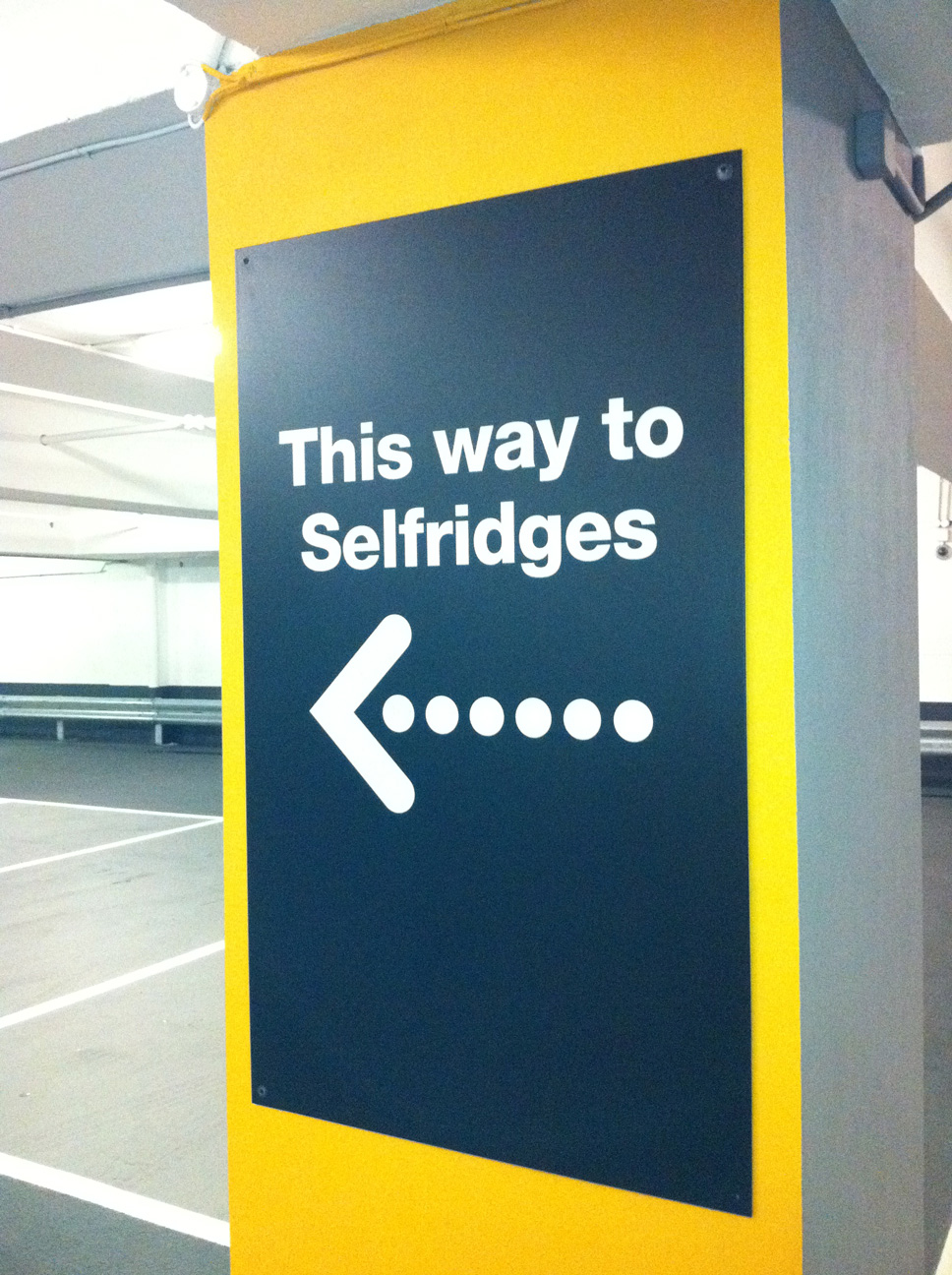 8. Resin Coatings at Marlowes Car Park
It certainly brightens our day to apply some vivid colours to a car park and this was a great example at Marlowes shopping centre. We resurfaced the flooring of the car park with purple resin flooring, blue and yellow markings, and black, white and grey zoning to clearly mark out spaces for parents, disabled visitors and pedestrians. Take a look: Resin Coatings at Marlowes
9. Road Marking Parking Bays at Canary Wharf
It may not be as glamorous as other jobs but we still enjoy turning failed markings into new, clear lines. Heavy London traffic in the city had caused the lines and parking bays to fail in this busy district so our line marking team went to repair and refresh the bays. Before we could apply new paint, we had to remove the old anti-skid paint by microplaning the road surface. We then reapplied anti-skid for safety before applying a fresh coat of thermoplastic paint for police and car parking bays. Read more: Car Park Marking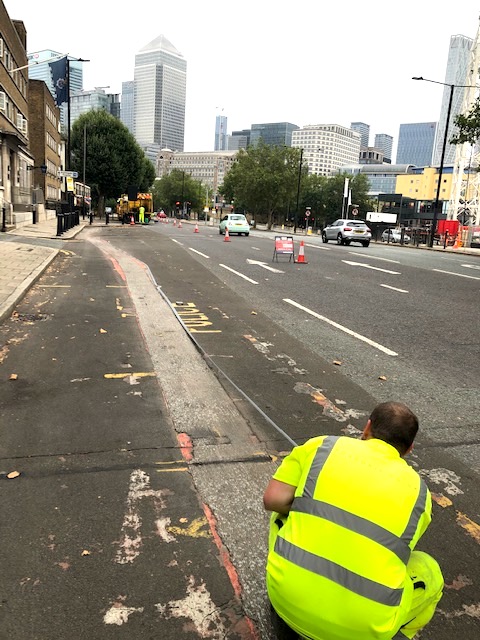 10. Car Park Line Painting at the Olympic Village
From concrete and dust sealing to line painting five separate car parks at the Olympic village in London, the line marking spanned over 16,000 sq meters. It was great to use some colour to really complement the magnificent venue, too.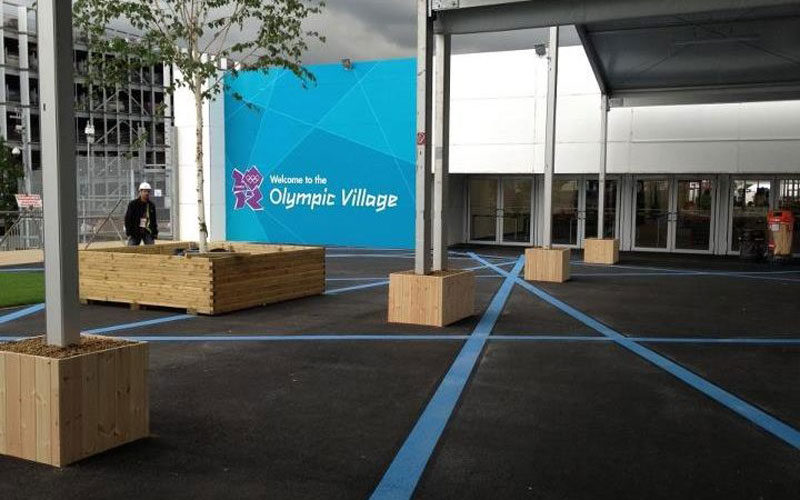 From car park refurbishment to new car park construction, we can handle as much as you need. To find out more about our resin floor coatings, line marking, surface preparation, car park waterproofing, signage and parking barriers, please contact the Roadgrip team for a quote or brochure.