2020 has certainly been a strange year for the planet and, as we look back over the past few months, we're incredibly grateful for our continued opportunities to work, doing what we love.
There have been sacrifices and tremendous efforts on behalf of our team – some of whom have been stranded abroad or quarantined on their return after working so hard on the world's race circuits.
Even with the unexpected challenges of travel, we've still been fortunate to paint Formula One's circuits for the Grand Prix, British Super Bikes and MotoGP to name a few.
Here are five of our favourites from 2020:
Austrian Grand Prix, Red Bull Ring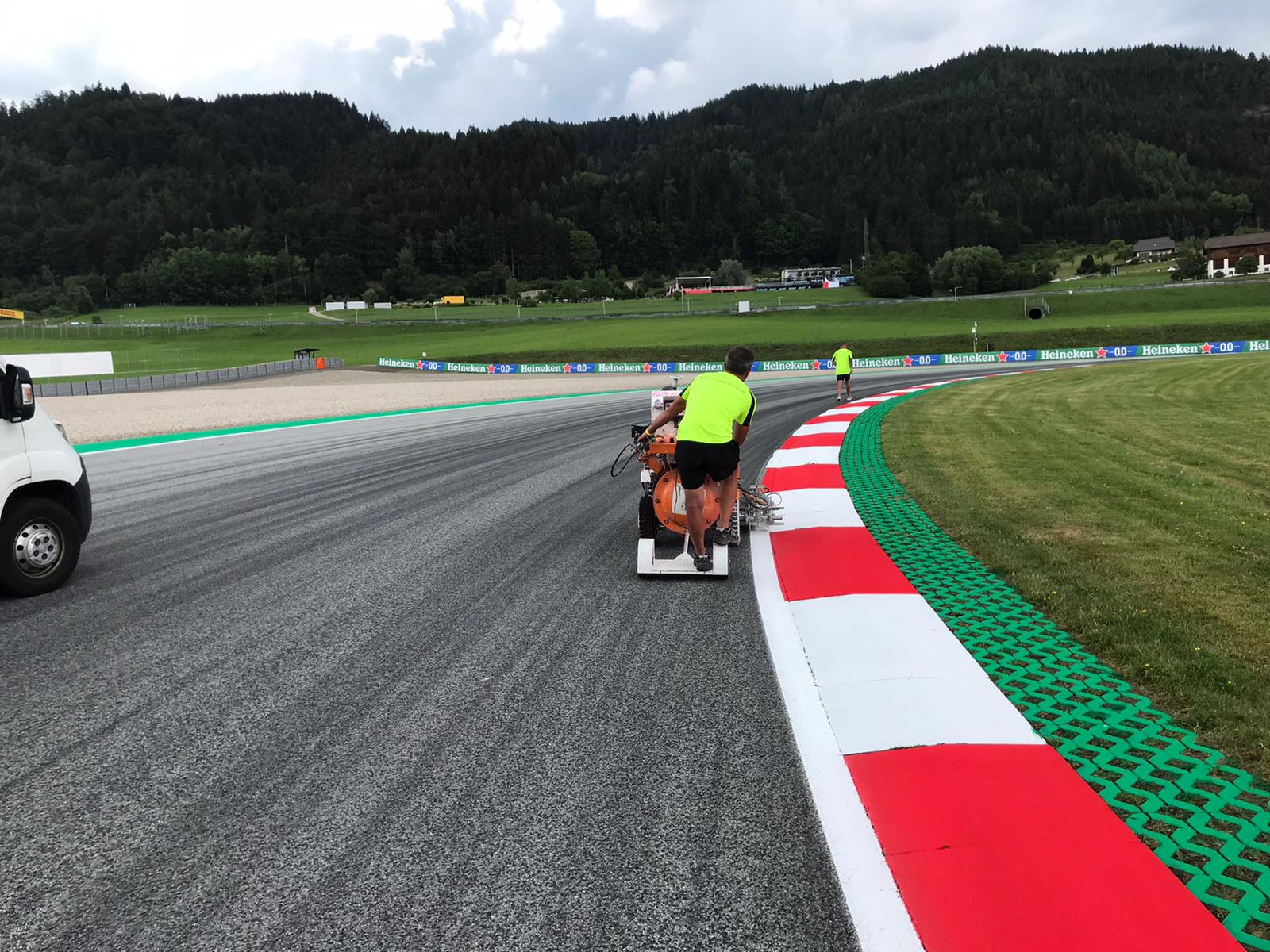 After being paused, F1 kicked off their racing calendar with the Austrian Grand Prix at the famous Red Bull Ring in the Styrian mountains. This meant that Roadgrip Motorsports needed to mobilise the team to this high-altitude circuit to prepare it for the race.
We applied anti-slip markings to the track's exhilarating downhill bends, long straights and run-off areas ready for the race. Take a look at the stunning pictures

F1 Pirelli British Grand Prix, Silverstone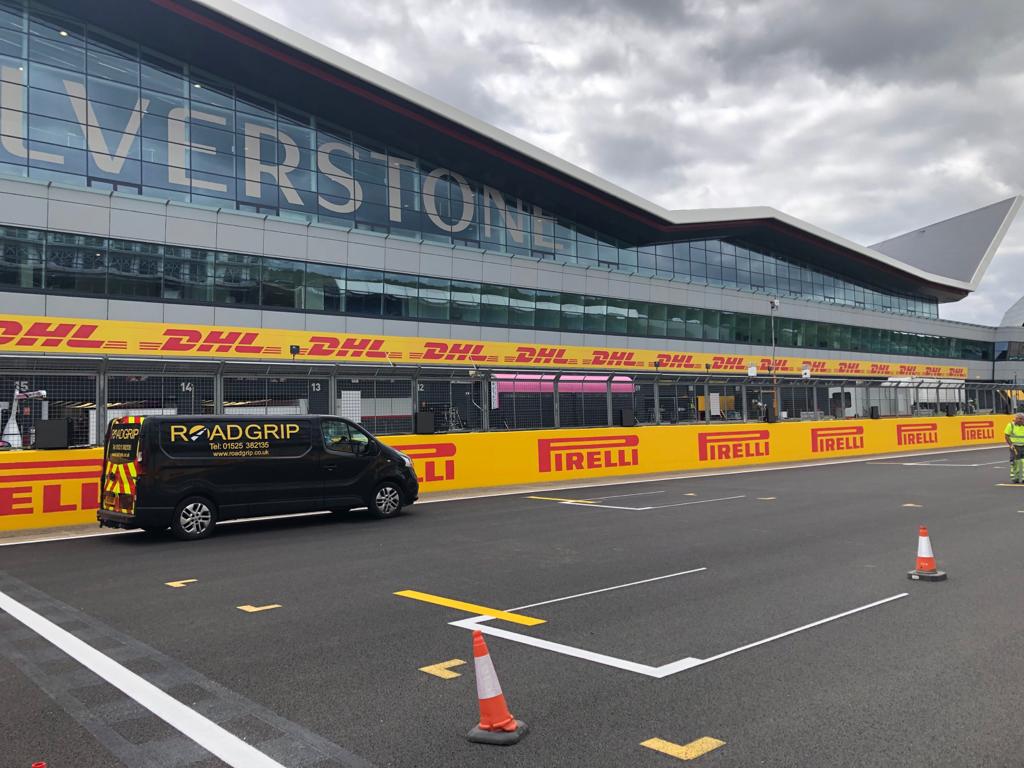 Closer to home, it was much easier for us to transport our motorsport team to Silverstone circuit, which is only a few miles from our HQ. This time, we applied super sharp, FIA-approved markings to the track for the F1 Pirelli British Grand Prix.
This year, due to the pandemic, there were to be no on-site spectators – only TV crews. Our markings needed to stand out for overhead cameras as well as ground-level crews. See the full project
MotoGP, Austria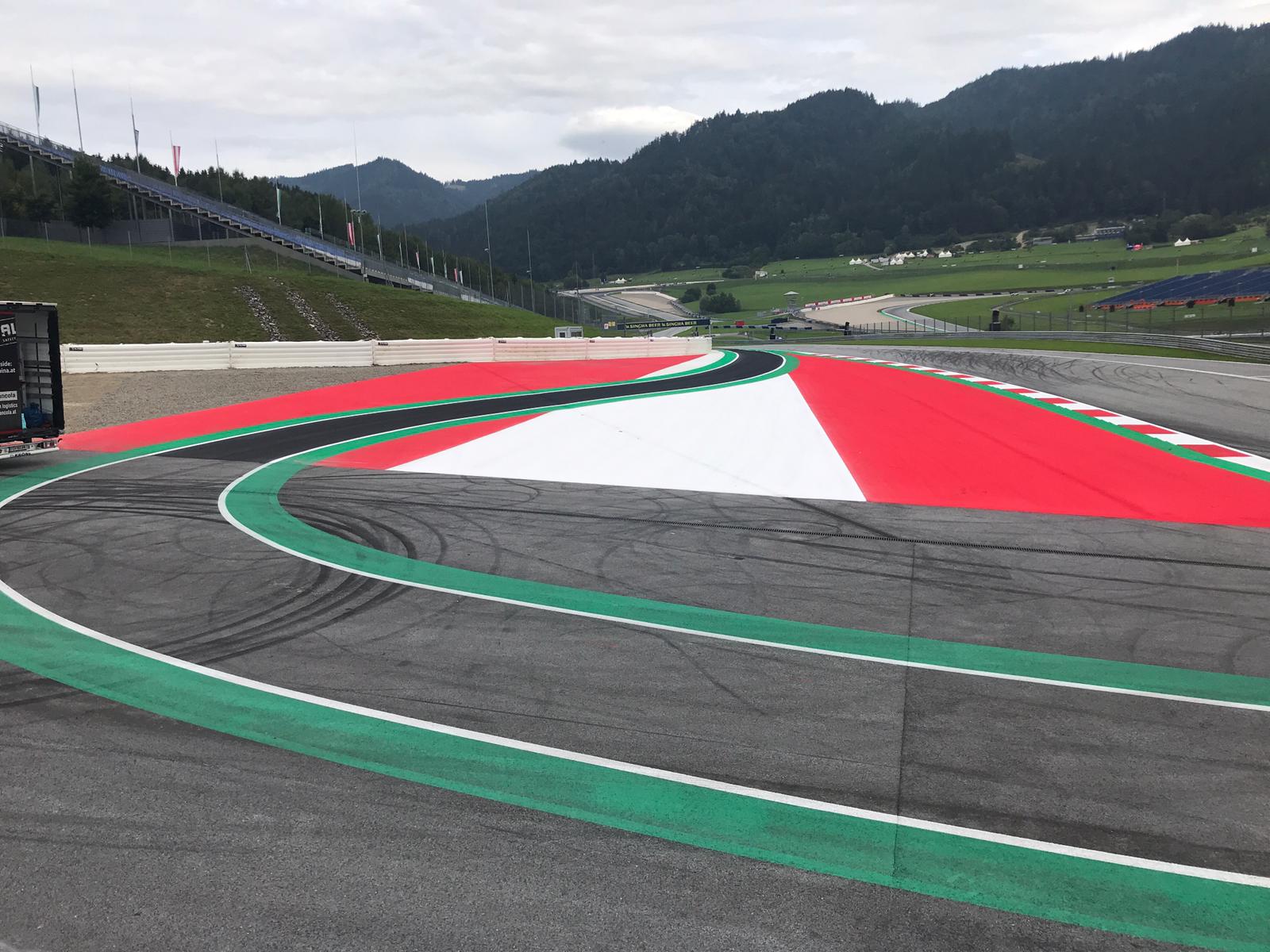 No sooner had we returned from prepping the track for the start of the F1 racing season, we were returning to Austria to refresh the markings for the MotoGP race at the Red Bull Ring.
We were treated to gorgeous weather which only made the backdrop even more scenic as we applied a new coating of anti-slip paint to the circuit lines and run off areas. I think these photos show just how much the Roadgrip team love what they do: MotoGP 2020
The World Endurance Championship and more!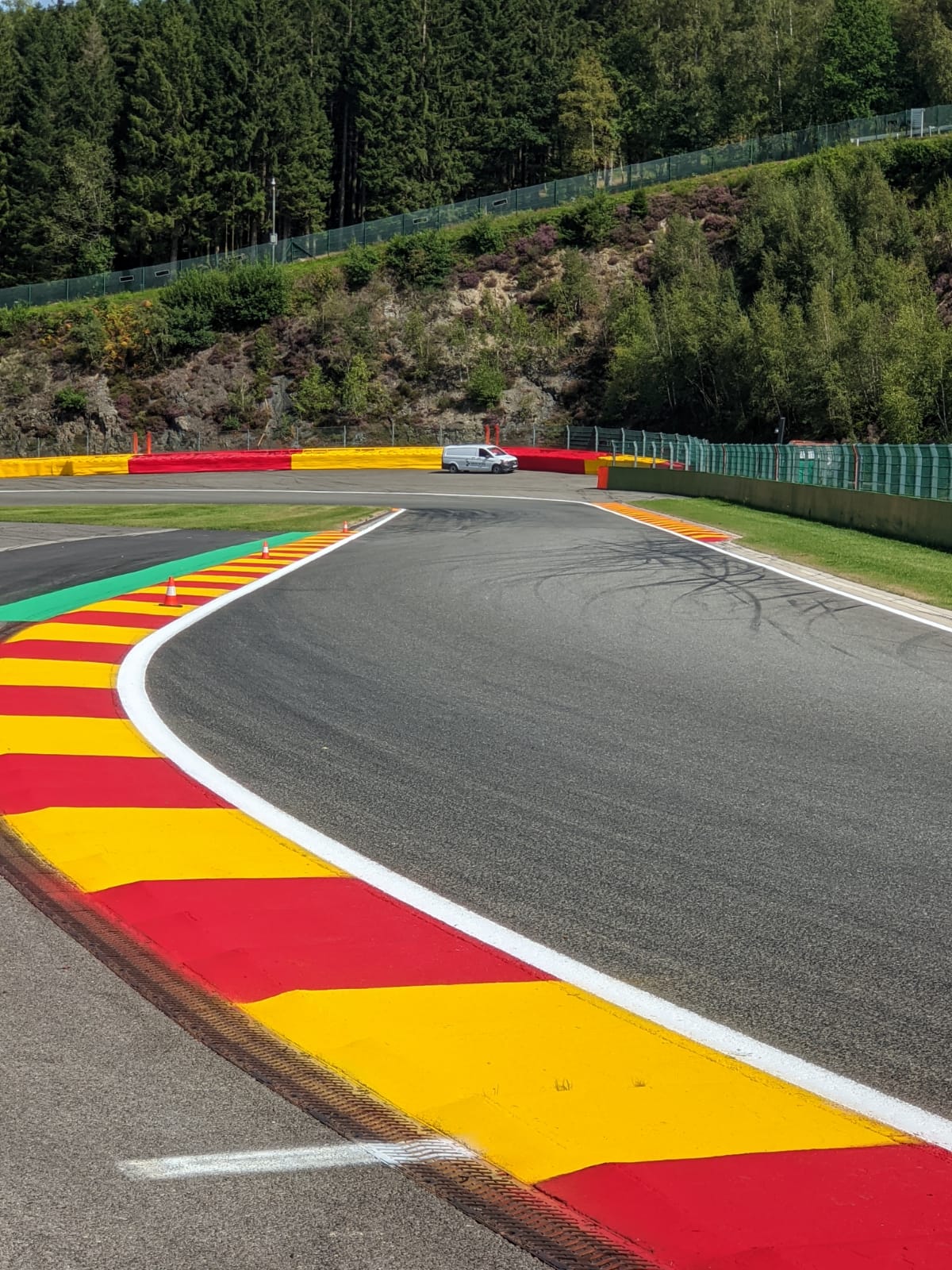 Our track painting crew returned to the Circuit de Spa-Francorchamps in Belgium on a few occasions in 2020 to prepare the track for some exciting races.
Our first visit was to refresh the circuit lines for the DTM Trophy Race (Touring Cars) followed by another trip to paint the track markings for the World Endurance Championship (WEC). We then returned again to apply a fresh coat of FIA-approved paint for F1's Rolex Grand Prix. Read more about the projects
NHS Hospital, Burton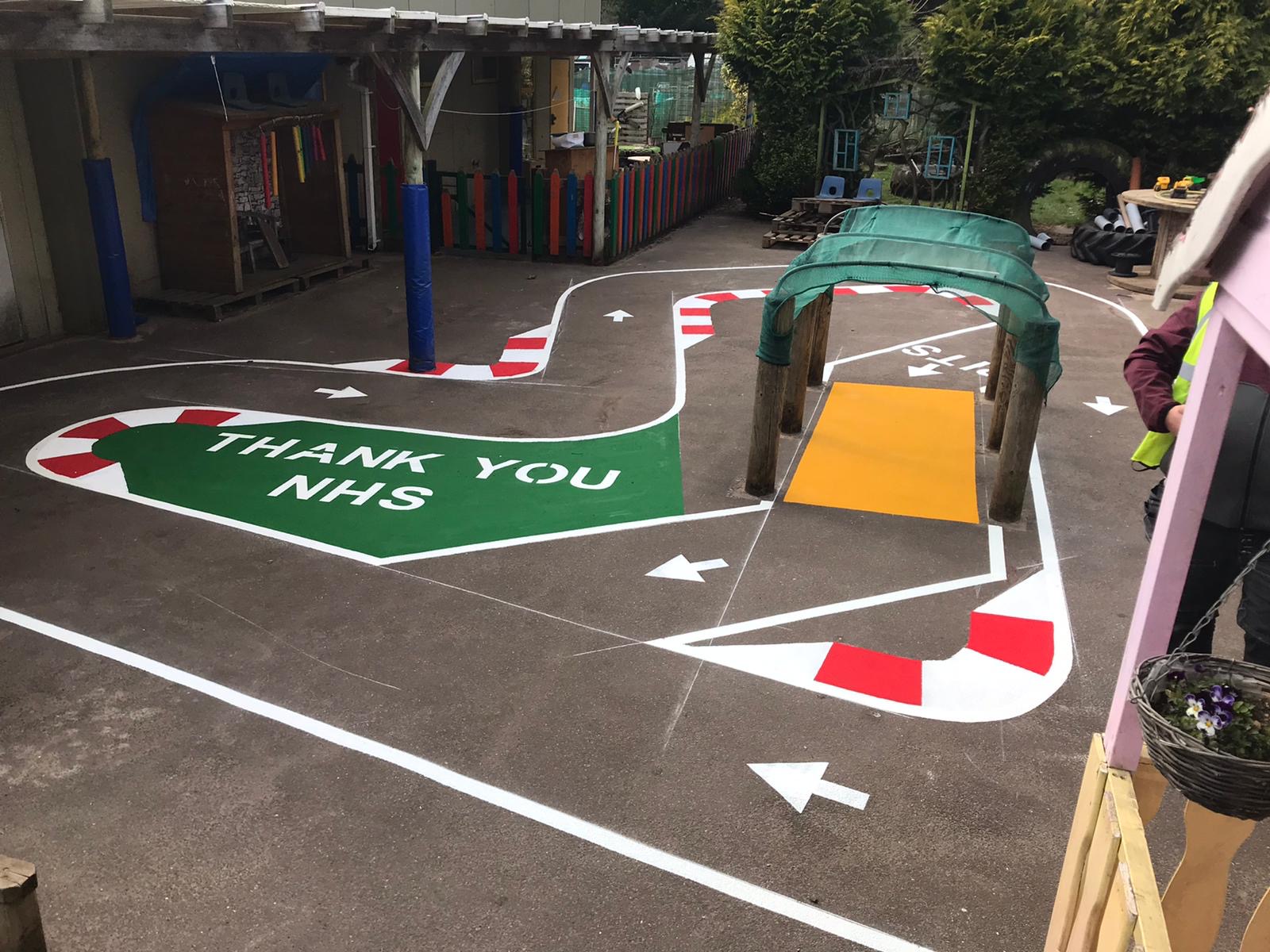 Ok, so it may not be a world-famous racing circuit, but this was one of our favourite track marking jobs of 2020.
Our team painted this mini racetrack to say thank you to the NHS for their incredible efforts during 2020. The little circuit was applied to the outside recreational area at the nursery where the NHS staff took their children. It was a small gesture in light of all they do but one we hope put a smile on the faces of many nurses, doctors and hospital staff (and their little ones) during Covid-19. Take a look
These are just a few of the projects we worked on during 2020. Our hardworking team also completed many jobs on airfields, roads, car parks and retail sites to help improve safety around the world during lockdown. You can see more on our projects page.